Béjart Ballet Lausanne
Over 500 shows around the world between 1998 and 2012.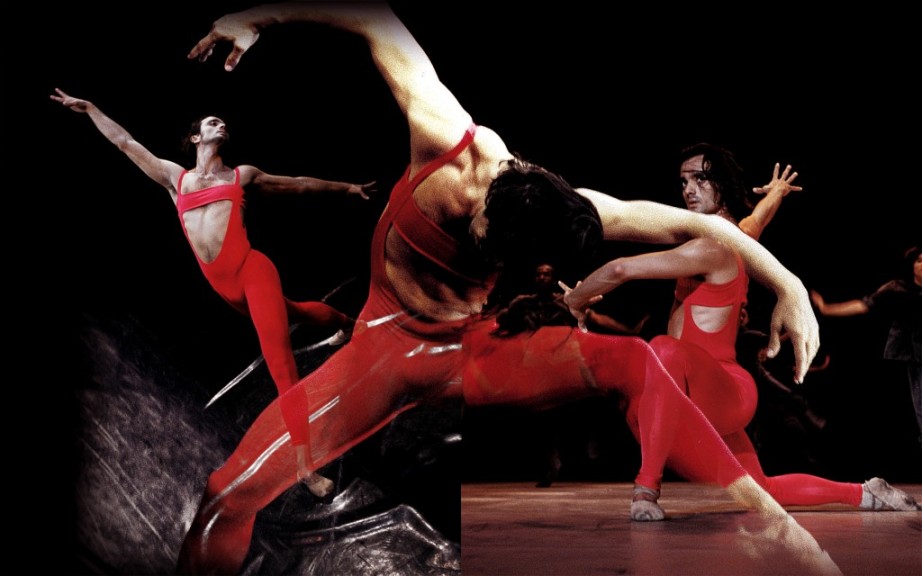 The Story of Béjart Ballet Lausanne
1987

At the end of June 1987 in Brussels, the curtain fell for the last time over the Ballet du XXe Siècle. Six weeks later the Béjart Ballet Lausanne began its rehearsals. "In two months, we accomplished backbreaking work," explained Maurice Béjart. "We had to set up temporary studios, begin the construction of definitive studios, prepare the tours, take up former ballets, create new ones… It was all overwhelming, which only goes to show that life makes a point of shaking us up from time to time."
Stimulated by this rushed move and without even having the time to catch his breath, Béjart set off on a new cascade of creations . Souvenir de Leningrad, Prélude à l'après-midi d'un faune, … Et valse, Cantique . First, in a gym room and then in the ballroom of the Palais de Beaulieu, the dancers soon gave up their very sweat and blood. This is the price to pay for the success of this first show by the Béjart Ballet Lausanne.
1988
"I feel more in tune with Hugo than with Mallarmé, in that I need to create extensively. When I'm creating three or four ballets at once, there's the chance that one of them will be good." How typical of Béjart's eclecticism! The light and lively Souvenir de Leningrad is soon followed by the dreamlike Patrice Chéreau (devenu danseur) règle la rencontre de Mishima et d'Eva Perón , with clothing design by Gianni Versace as well. Then comes Dibouk , a fascinating ballet in black, white and grey, the colors of the Kabbala and tragedy, which premieres in Jerusalem. In the autumn of 1988, a four-week tour of Japan brought the Béjart Ballet Lausanne and the Tokyo Ballet togetheron the same stage, as well as Jorge Donn, Patrick Dupond and Bando Tamasaburo, the famous Kabuki actor.
1990
The choreographer tirelessly sculpts monumental works of art. In March 1990, the masterpiece of a lifetime takes form at the Deutsche Oper Berlin: Ring um den Ring , adapted from the Ring der Niebelungen by Richard Wagner – a fascinating show that lasts almost five hours. By taking on Wagner's tetralogy, he signs his greatest work. Ring um den Ring will be a ringing success both in terms of choreography – "quotes" from former ballets and renewed techniques – and philosophy, with a poignant highlighting of the passing time and the inevitable end of all things. At the Opera of Cairo, two months later, he celebrates Egyptian grandeur. Like an oriental suite, Pyramide – El Nour tells the tale of the voyage of the mystic Dhul-Nun through time and space. From the construction of the pharaohs' tombs in Gizeh to modern Egypt, symbolized by the legendary Oum Kalsoum.
1991 
The celebrations of the 700th anniversary of the Swiss Confederation turn the choreographer's attention to the father of the "psychology of the depths", the Swiss Carl-Gustav Jung. La Tour is a fascinating collage that is both musical – Chinese chants mixed with an Alpine horn – and theatrical, with its doubling of characters and juxtapositions of voyages. Built around Gil Roman, La Tour , as dark as it may seem at times, is lined with flashes of genius in scenes of childhood, initiation and death …   factors that also come into play in autumn in Tod in Wien , a ballet created for Mozart's 200 th anniversary.Béjart could only have created Tod in Wien , a free evocation of Mozart, in Vienna. Beyond a mere portrait, and much more than a biography, this ballet focuses on the voyage between the afterlife and the here and now. Many key characters of the Béjart world are present, Death a guest of honor. The spirit of Béjart is almost tangible. Going back in time, Tod in Wien moves from shadow to light, the sumptuous costumes by Dominique Borg gradually revealing themselves to our view. A virtual ritual is played out, water and fire being the clear symbols. Mozart's Masonic Funeral Music , the Lacrimosa and the Kyrie from hisRequiem are not the only audible echoes. Harmonies borrowed from Don Giovanni regularly recall that the surface of things – a bright masquerade ball, for example – hides drama underneath. Gil Roman, in one of his best roles, expresses this duality to perfection. He is equally convincing, charming and sardonic. Perhaps a form of exorcism? Whether at the Volkstheater, and then the Opéra de Paris, or opera houses in Genoa, Brussels, Stuttgart and Lausanne, the public greets this magnificent show with open arms.
1992
The seventeen dancers featured in Tod in Wien alone announce the metamorphosis of the Béjart Ballet Lausanne. Tired of major shows designed for giant venues, the choreographer decides to focus on more personal work with a resized company – twenty-five dancers as of summer 1992 – and a workshop school: Rudra Béjart. And it is at this very moment, when the company breaks up, that Jorge Donn, an emblematic figure, passes away. Maurice Béjart's scope of creation is decidedly without limits. After the dark celebrations of La Mort subite, La Tour and Tod in Wien comes the luminous sparkle of Mister C… . Mister C… a.k.a. Charlie Chaplin, who Béjart considers to be "the greatest dancer of all times". As for Mister B. – the wonderful choreographer George Balanchine – as the Americans call him, he gave this same title to Fred Astaire. But if you look closely, Béjart's Chaplin is similar to Balanchine's Fred Astaire. Moreover, all ballet – with its strokes of spirit, its ease and its punch – is rooted in the musicals of the 1920s and 30s.
1993
Already a member of the Order of the Rising Sun, Béjart receives Japan's Imperial Award, considered there as the equivalent of the Nobel Prize of the Arts. The time of honors has arrived. In London, Sylvie Guillem inspires Béjart to create a sumptuous Sissi – l'Impératrice anarchiste in which the sovereign appears as a "friend of the people, artists and poets".  Solo? Duo? In this play in which she will dance the world over, Sylvie Guillem comes face-to-face with an enigmatic character (Olivier Chanut), both sycophant and psychiatrist. While the diva steps onto the stage in a dazzling white Versace dress, like Romy Schneider in Visconti's Ludwig , she soon strips away her facade to appear psychologically nude like the "anarchist" that Béjart sees in her. In this respect, the relationship between Louis II and Elizabeth of Austria – two Wittelsbach –surpasses the fact that they are cousins. Between the two, there is a communion of the souls, which Sylvie Guillem expresses with fierce ardour. The dancer envelops her character in incredible violence. She perfectly reveals every fault and flaw, while her ears ring with the Emperor Waltz , Greek melodies – Sissi loved to hide away in her Corfu palace – or an Austrian landler. In contrast, The Ballad of Athena Street follows, a scenic transposition of a series of ballads by Manos Hadjidakis.
1994 
At the Palais de Chaillot, Béjart reveals the first chapter of a Journal that will make up a triptych. Igor et moi plunges into the sources of his memory, back to the time when Béjart found his roots by interpreting The Rite of Spring and The Firebird . "There are three musicians to whom I always return and who have been my masters" he explains, "Stravinsky, Wagner and Boulez." For King Lear – Prospero , he turns to Elizabethan music. Like the great master of the stage that he is, he makes tragedy a dance of death and magical comedy a circus show! Shakespeare has long nurtured the imagination of choreographers, from Hamlet to A Midsummer Night's Dream . Béjart himself had already succumbed to Romeo and Juliet (1966). But this time, there was no question of adapting a text to the choreography stage. For him, Lear and Prospero "are the same tragicomic figure of this bloody and farcical melodrama, which, from the Astrides to the heroes of Mishima (…), shows us the derision of power in all its omnipotence and vanity." The difference being, all the same, that the first "claims to renounce the kingdom, but cannot pull away from power: conflict, drama, folly…", while the second, "spurned by his brother, renounces his magical power (the only power remaining to him) and forgives."
1995 
Especially touched by his invitation to the chair of the much-missed Paul-Louis Weiller under the dome of the Institut de France on March 29, 1995, Béjart is the first dancer to become a full member of the illustrious Academy of Fine Arts. Leaping between Lausanne and Berlin, the choreographer creates À propos de Shéhérazade both for his Lausanne company and for the Staatsoper Berlin Ballet. Asia, hovering between tradition and modernity: this one-hundred-minute show is all Béjart – bursting with imagination, dramatic twists and a taste for the dissociation of characters, making Scheherazade double, both woman and man. In autumn, the choreographer sets up his headquarters at the Palais de Chaillot. He creates the second chapter of his Journal there, a chapter dedicated to his lifetime companion: Richard Wagner. But while he used the first person before in   Igor et moi , he now pairs a musician with a poet: Charles Baudelaire. For this new Parisian season, Béjart returns to a collaboration that he began thirty years earlier with Jean Babilée. "Jean Babilée, our phoenix of dance, comes back to life periodically to prove that time is but an illusion. Two times deserves a third! After La Reine verte and Life , I join forces with Jean once again for a new life, Vita Nova , in which Dante's love for Beatrice becomes The Love and His Love in its eternal ideal."
1997
A few days ahead of time, in December 1996, the dance world celebrates the 70 th birthday of the choreographer. For the occasion, Le Métropole in Lausanne welcomes its most faithful spectators, as well as an exceptional handful of artists. In the room, we catch a glimpse of Ruggero Raimondi, Annie Chaplin, Mikhail Baryshnikov… On stage, amongst others, we applaud Sylvie Guillem, Carolyn Carlson and Larrio Ekson, Jean Babilée, Patrick Dupond, Jean-Claude Brialy…
Three weeks later in Paris, the creation of a new show that would later tour the world: Le Presbytère n'a rien perdu de son charme, ni le jardin de son éclat . The poignant voice of Freddie Mercury raises it to a fiery red. Mercury is no longer with us, victim to the plague of modern times. But John Deacon, Brian May and Roger Taylor, his comrades from Queen, are present, as is Elton John who, for the finale, strikes up The Show must go on to the acclamations of a stunned audience. With his hand, he touches the dancers, still sprawled out in the foreground of the stage, covered with a white shroud, as if transmitting his vital flow. During the chorus, taken up one last time, and while the dancers begin to stand up, Béjart raises his arms to the sky, with fists clenched tight, to show his certitude of the victory of life over death. Moreover, he gives up his rights to this ballet to the Freddie Mercury foundation against AIDS.
Mozart and Queen, Jorge Donn and Freddie Mercury, desire and illness, love and death, white and black… Le Presbytère … wavers continuously between two opposites. A binary rhythm that allows Maurice Béjart to create numerous contrasting effects in line with this overwhelming show.
On June 25, 1997, in the Renaissance showcase of the Boboli gardens in Florence, Maurice Béjart and Gianni Versace join forces to create an event that melds a dance show and a fashion show. For the occasion, stage designer Roger Bernard builds an ingenious scenic ensemble with enough space to welcome the dancers and the arrival of 65 models presenting the Gianni Versace Uomo collection. Here, Béjart gives his European premiere of Barocco – Bel Canto , shown for the first time in Sao Paulo, a ballet as light as the birds who dance in it, in which the real and surreal intertwine in the most festive way.
In tune with Aris Christofellis and Ewa Mallas-Godlewska, whose stratospheric vocals light up a series of Baroque pieces, from Vivaldi to Hasse, the dancers seem to take flight. This airy choreography is heightened by the combinations of dizzying colors by Versace. From solos to pas de trois, from pas de six to pas de sept or all together, these jubilatory dances only pause under the effect of premonitory gunshots. With gazelle legs barely covered by a pink sequin dress, top model Naomi Campbell points a gun at Gil Roman and shoots him down. These detonations put a chill in our heart and soul. Three weeks later, on July 15, a gun is pointed at Gianni Versace, in front of his house in Miami.
1998
The tour picks up the pace – Italy, France, Belgium, and then Russia. After these triumphal journeys, Béjart sets a new challenge for himself: uniting almost 30,000 spectators in 11 dates in a new venue in Lausanne that he had entirely revamped – the Espace Odyssée. He plays an easy hand by taking up The Rite of Spring, The Firebird and Bolero , three classics that the public demands unceasingly. After just two shows, Sylvie Guillem makes the famous table red-hot.
And yet, far from yielding to sure values, Maurice Béjart completes this Stravinsky-Ravel triptych with another creation: Dialogue de l'ombre double , with music by Pierre Boulez, in which – on the contrary – he underlines his continuous taste for artistic adventure. Immediately after, the company flies to Japan for a major tour: Tokyo, Osaka, Nagoya, Takamatsu, Tokuyama, Hiroshima…
After twenty or so years of absence at the Bolshoi, Maurice Béjart returns to this legendary stage. He does so to create MutationX , a sort of apologue in which the choreographer sets the scene for a group of survivors of a nuclear catastrophe, about to leave Earth – or what remains of it – on the last available rocket.
The blossoming of a flower over the ruins of what was, compared with the current situation, a sort of Eden, appears as a sign of hope. "As for me, I'm staying," he cries out. "MutationX is an optimistic ballet about a subject that is quite the opposite," comments Béjart.
Nostalgia, love, musicals… The Mariinsky of Saint Petersburg, the birthplace of the great ballets of Petipa, is just as thrilled by the presence of the Béjart Ballet Lausanne.
While many choreographers have taken particular pleasure in creating their own interpretations of great classics for ages upon end, Maurice Béjart tries his hand at the game for the first time.He chooses the work that gives the greatest room for interpretation. Although it features a very strong partition by Tchaikovsky, The Nutcracker is so filled with fantasy that every wild whim, even the most kitsch, can play a part. Thus, Béjart explores his childhood and particularly the memory of his mother, whom he knew so little – he was only 7 when she passed away – and dreamed of so much! The maternal figure dominates the entire show via an enormous statue of a pregnant woman who pivots on her axis to reveal a cave sheltering a Virgin and child. Devoid of philosophical pretension but bursting with charm and irony, this Nutcracker is perfectly in line with Gaîté parisienne and Arepo , ballets of memory in which the choreographer looks back on his youth.
1999 
An addition to the list of the usual destinations of the Béjart Ballet Lausanne, Mexico offers the chance to enjoy an exceptional encounter with several tens of thousands of spectators in the immense Zocalo Plaza in March 1999. But a new project takes shape, slowly nurtured by the choreographer for some time. La Route de la Soie allows him to come full circle. This ballet unites bits and pieces of former shows inspired by the Orient – Turkey and India – and new tableaux in the same vein – the Mediterranean, Mongolia, China, and more. Painted in the colors of the rainbow, this Route de la soie places Béjart exactly where he is most at ease: at the crossroads of great civilizations. For Béjart, taking vacation means working… only a little less. In August, back from a major French tour and a series of shows in Carthage, he throws himself into the preparations for The Overcoat , adapted from Gogol.
2000
The Béjart Ballet will mark the switch to the 21 st century by celebrating the key moments of the 18 th . A commission by the public establishment of the Museum and National domain of Versailles makes it possible to give form to a vision of the major French kings, though they were underage when they were crowned, namely Louis XIII, XIV and XV… L'Enfant-Roiboasts the Royal Opera of the Château de Versailles as its majestic showcase. Successively, the Lausanne troupe, along with the Rudra school-workshop, stages three shows featuring a stunning patchwork entitled La Lumière des eaux . On an immense stage built over the pond of Neptune, a reinterpretation of the festivities of the Grand Siècle unfurls its every splendor. This "ballet of ballets", uniting parts of Messe pour le temps présent, La Route de la soie, Adagietto and The Firebird , is praised by some 25,000.
We know how important the beauty of a location is to Maurice Béjart. So it comes as no surprise that L'Enfant-Roi comes to fruition at the Royal Opera of Versailles in a room with ideal proportions (600 seats), golden Corinthian columns, crystal chandeliers and a stage curtain stamped with lilies. This scenery meets its match on the stage, enhanced by the magnificent stage design by Thierry Bosquet, which was inspired by Torelli with colonnades, clouds, mirrors and a carriage shaped like a shell. No other setting or room could have so exquisitely framed these child-kings: Louis XIII (crowned at age 11), and Louis XIV and Louis XV (both age 5).
2001 
Created in the monumental setting of the ancient Theatre of Fourvière and commissioned by the General Council of the Rhone region, Lumière reveals itself as a playground for initials, words and stage work. B like Béjart, Barbara, Brel, Bach… Unity sprung from diversity. There is Barbara, loyal friend of the choreographer, who told him "I am the black light", who played the role of luminous night in his film Je suis né à Venise , and who introduced him to Brel's song La Lumière jaillira . And then there is Bach, with his Mass in B Minor and his Magnificat… because Bach illuminates transcendence. A wordplay… Light, "lumière" in French, is the visualization of this transcendence as well as a loving reference to cinema and its inventors from Lyon, the brothers Louis and Auguste Lumière. The first is represented like a white clown, the second like a circus clown. Projection of the film La Sortie des ouvriers de l'Usine Lumière (1895), video sequences, costumes by the young Belgian designer Jean-Paul Knott, former assistant to Yves Saint-Laurent… This idea of playing with the stage, in which each dancer finds his or her ideal role, is then met with astounding applause by the 15,000 spectators. Béjart will later create a short and visually minimalist sequel from this show, focused on the songs of Brel and Barbara.
2002
Baden-Baden, Amsterdam and Budapest mark the first months of 2002, not to mention Paris for an exceptional show at UNESCO, in homage to Léopold Sedar Senghor. The Béjart Ballet Lausanne then leaves for Japan, where it stays for five weeks. A sunny tour concludes the 2001-2002 season: Athens, Cyprus, Nîmes, Palermo, Verona and Rome. Autumn 2002-2003 is set off by two events. First, the choreographer puts into place a program entirely dedicated to Stravinsky for the Béjart Ballet Lausanne. Presented first in Lausanne and then immediately after in St. Petersburg and Moscow, this show's highlights feature the Violin Concerto and The Firebird . Before this, the troupe went to Lisbon with Boléro and Seven Greek Dances , and Estonia, where the Baltic public discovered Le Presbytère… Second, Maurice Béjart, impressed by the quality of the graduates of his Rudra school, makes up a junior troupe, which he personally finances: La Compagnie M. The show that he creates for these fifteen young artists and Marcia Haydée, Mère Teresa et les enfants du monde , begins a long tour around the world, all the way to Brazil and Argentina.
2004
From Marseille to Palermo, from Genoa to Lisbon and even in Tokyo, the first half of 2004 is extremely international for BBL. The same can be said personally of choreographer Maurice Béjart. La Scala takes up his Rite of Spring ; the Rhine Opera re-releases Le Marteau sans maître (music by Pierre Boulez); the Berlin Ballet asks him for Ring um den Ring (Wagner) and the Tokyo Ballet stages The Miraculous Mandarin (Bartok). As for the substantial royalties that all of these productions generate, they are used for a foundation to help young dancers in training. In spring in Lausanne, Béjart presents a rich anthology, notably The Magic Flute and Bhakti (complete version, 1968). Like a distant echo of the 1960s, when so many succumbed to the temptation of the Orient, Bhakti renews with the distant past of the choreographer, during the time in which he incarnated modernity by breaking all codes. Combining the vocabulary of bharatnatyam with the grammar of western classic dance, this indispensable ballet toured the entire world many times, including Moscow and its Bolshoi, and finally returns to its merited place in the spotlight. And what good timing, as it is a moment of reunions. In December 2004, Béjart pays homage to his longtime partner, composer Pierre Henry. For this event, he chooses the essential Symphonie pour un homme seul (1955) – which he now uses for its Opus 1 – Batterie fugace and Variations pour une porte et un soupir . The choreographer also pays tribute to his favorite dancer, at his side for 25 years! Under the title Six personnages en quête d'un danseur , Béjart showcases six roles that marked the career of Gil Roman: Hamlet, Faust, Brel, Chaplin, the whirling dervish of Golestan and The Overcoat . At the same time, he creates L'Art d'être grand-père
2005
To celebrate the 50 th anniversary of Maurice Béjart as a choreographer and of a troupe that went by the successive names of Ballets de l'Etoile, Ballet-théâtre de Paris, Ballet du XXe Siècle and Béjart Ballet Lausanne, a grand gala is held at the Zénith in Lille. From Duska Sifnios, the first interpreter of Bolero , to Jean Babilée, the dancer of Life , numerous artists come to show their friendship with Béjart. A new film is dedicated to him. Filmed all around the world by Serge Korber, Béjart ! Vous avez dit Béjart ? goes back and forth between yesterday, backed by images from archives and the present. In April 2005, the Editions Jacques Brel record Brel et Barbara . This creation is also enhanced by archive documents and is completed by a portrait of Béjart filmed during the rehearsals of this ballet. These DVDs are added to that of B comme Béjart , a full-length film by Marcel Schüpbach, directed in 2001 when the choreographer staged Lumière. Also in 2005, the Béjart Ballet Lausanne makes its way through Europe (Belgium, France, Italy, Slovenia), and Asia (Korea, Hong Kong, Shanghai, Peking and Taipei). Seven different programs that, of course, suppress the possibility of new creations. This is why Maurice Béjart offers, under the title L'Amour – La Danse , a suite composed of excerpts of ballets that invoke love: Romeo and Juliet, Héliogabale, Casta Diva, etc. The end of the year is taken up by the production of Zarathoustra, le chant de la danse an obvious reference to Nietzsche, one of the choreographer's favorite authors. A creation that is followed a few months later by the publication co-written by Maurice Béjart and Michel Robert of Ainsi danse Zarathoustra , a series of interviews with Nietzsche as the common theme.
2006
You don't turn twenty (four times over) every day! Maurice Béjart has reached his eighties… It seems impossible. Such fruitfulness, such vivacity! And yet, his birth certificate makes it very clear. His birthday: January 1, 1927, in Marseille, France. How can such a man celebrate such a birthday (one that almost coincides with the 20 th anniversary of the company)? By creating a ballet, of course! And as his life has long nurtured his work, in La Vie du danseur racontée par Zig & Puce "any resemblance to those living or dead" is perfectly intended! The poster of the show, split into four, sets the tone to a certain degree. On the first photo, Béjart at age 8. On the second, Béjart at age 28, when he staged Symphonie pour un homme seul , his Opus 1. On the third, Béjart at age 48, the year of Notre Faust . And on the last, we can make a good guess that he is 68.
Four pictures, four slices of life, but twisted, transformed and reused. It goes without saying that the biographical element of La Vie du danseur…   is encoded. Béjart takes a wicked pleasure in covering his tracks. He sets up the table from Bolero , but not for Bolero … He rings out the measures from The Firebird , but not the ones used for his choreography… He takes up a few excerpts from past ballets, but only to give them a completely new meaning…
It is necessary to look back at the past in order to understand the present and build the future.
2007
While creating his new ballet, Le Tour du Monde en 80 Minutes , Maurice Béjart passes away on November, 22.
Gil Roman, his artistic co-director since 1993 – whom Maurice Béjart had described already in 2006 as: "[the only person] to continue, preserve, and possess my creations and ballets… and no one else" – takes on as artistic director of the Béjart Ballet Lausanne in December 2007.
2008
The Béjart Ballet Lausanne, under the direction of Gil Roman, tours extensively throughout Europe and Japan in the autumn, before presenting a unique show in the Palais de Beaulieu in December – three choreographers, Mats Ek, Jean-Christophe Maillot and Gil Roman, and three guest dancers, Mikhail Baryshnikov, Bernice Coppieters and Ana Laguna dance four ballets with the company: Aria , Gil Roman's latest creation, Fauves, The Place and Casino des Esprits. The ballets are a success and the Béjart Ballet Lausanne gets ready to tour again.